>
Welcome
Giving
Our Church offers multiple ways to give. 
Adventist Giving…
Coming this month! (MARCH) Adventist Giving has been working on an updated and refreshed version of our donor site.  We want to let you know to expect the site to look different but have all the same features and more than our current site!
(Cheerfully!) 
"Each of you must make up your own mind about how much to give. But don't feel sorry that you must give and don't feel that you are forced to give. God loves people who love to give."  2 Corinthians 9:7 CEV

1.  ADVENTIST GIVING  (through the mobile app or online, secure link below)
2.  PUSHPAY (through the mobile app or online, secure link below) 
3.  Mailing checks or money orders to the church
4.  Cash, checks, or money orders offered at weekly services.
 All of these options allow you to deposit your donations securely to the Richland Adventist Church. Our Treasury and Information Technology staff have enlisted the best security resources and are working with accredited electronic processors to ensure that this system is secure.
---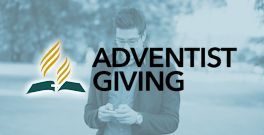 Click the button above and Adventist Giving will take you through the steps of setting up an online account to give. 
Adventist Giving has also provided some helpful instructions for donors and church family on how best to use their web services to give offerings, pay tithe and continue to finacially support our church. 
CLICK HERE
to view the full instructions or to get the phone app. 
---
If you have questions about our local budget or how the tithe & offerings are used in our church, please visit the following links:
Frequently Asked Questions concerning tithe & offerings
What is our tithe used for?