>
Home
>
Ministries
>
Member Nurture
Women's Ministry
Nurturing, empowering, and caring for the women & young ladies of the Richland Church and community, as they seek a passionate relationship with God, is the focus of our Women's Ministry Team.  Richland Women's Ministries provides opportunities for spritual growth, mentoring & bonding, creativity, fun, relaxation, and spiritual retreat. Stay tuned for information on upcoming art & craft projects, teas, socials, retreats, mother-daughter seminars, shopping fairs, makovers, service opportunities, health & exercise classes, guided book groups, and more.  If you would like to become a part of Women's Ministries, please talk to us! 

End It Now Summit on Abuse
This event is free and live streamed on Wednesday,
September 4, 2019 and is both in English and in Spanish.
For more information go to: www.enditnownorthamerica.org/registration.

Upper Columbia Conference
Annual Women's & Young Women's Fall Retreat
October 25-27, 2019
Theme: "Anchored"
Registration for "Anchored," the 2019 fall Women's and Young Women's Retreat at
beautiful Camp MiVoden, October 25-27, is now open. 
Special keynote speaker is DeeAnn Bragaw.
To register go to: 
www.uccsda.org/women  
For more information, call Wendy Urban at 509-242-0628.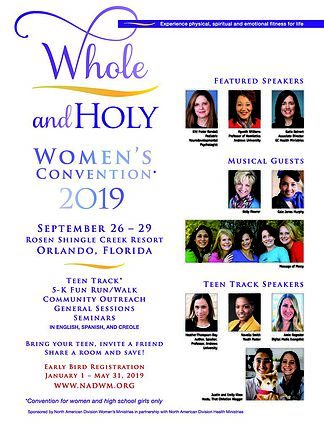 North American Division Women's Convention
If you would like to participate in a convention for women
for the whole NAD visit www.nadwm.org. This event is in
Orlando, Florida on September 26-29.
Learn more or ask us a question about Women's Ministry.
Member Nurture Ministry Leader